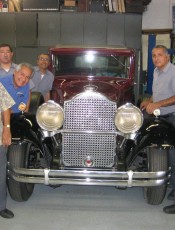 Robert Escalante and the soft-spoken boss of the road. Once designated as The Golden City by its civic leaders, Santa Ana was among the first municipalities to be incorporated as part of California's sunny Orange County, back in 1886. Located just 10 miles from the Pacific Coast, it is a place of many historic landmarks […]
Read more
"Ask The Man Who Owns One!"
Packards have always been a cut above. In the 1920s, the marque outsold Cadillac and was considered the American Rolls-Royce.
Today, if you want to find out about Packards, all you need to do is ask Robert Escalante. Escalante owns Custom Auto Service, a Santa Ana shop that is known throughout the country for Packard restoration and maintenance.
A walk through the establishment - housed in a building that was home to an electric car dealership early in the last century and later a truck dealer - is a step back in time to delight any car buff.
Though the last cars to bear the Packard name were built in 1958, the marque is alive and well here at Custom Auto Service.